Raise your hand if you love doing camping speech therapy activities!?
I do! I do!
Many children go camping during the summer months with their families and friends. As speech therapists, we have an opportunity to bring in themed therapy lessons that are relatable to student experiences. This process helps them use context to access vocabulary words and build skills with narration. In this case, camping is often filled with fun and adventure, so chances are high that this theme will keep your students engaged!  Today,  I want to inspire you with some camping speech therapy activities that are stress free and highly rewarding for your students! Pick a book a week for up to four weeks while targeting goals and focusing on the fun of camping!
Did you know…..?
One study found that children who come from low-income backgrounds showed improvements with learning new vocabulary when exposed to the words at least 12 times.* Students with language disorders needed at least 6 instructional exposures to the word per session over 6 sessions (36 exposures) to really learn the word. The study tried to do more higher levels of intensity with teaching vocabulary and found that the children didn't make as many gains.
Based on this study, 36 exposures to vocabulary is a good place to aim when building vocabulary!
____________________
Camping Books For Speech Therapy
There are a lot of camping books for speech therapy that you can use to incorporate into your sessions (amazon affiliate links included for your convenience). This is a great way to teach themed camping vocabulary words with pictures!
Here are some of my favorite camping themed books for speech therapy:
Curious George Goes Camping by Margret Rey
Camping Spree With Mr. Magee by Chris Van Dusen
Our Great Big Backyard by Laura Bush & Jenna Bush Hager
Amelia Bedelia Goes Camping by Peggy Parish
Just Me and My Dad by Mercer Mayer
Need more summer book recommendations? Head over to this blog post for more suggestions.
Structuring Your Lessons Around Books
First Session
When you first work with your student, read the book straight through without stopping for questions.  You can point to things in the pictures, but do not ask your student to share his or her thoughts.  After reading the story, you can plan a theme-based lesson using the targeted vocabulary from the books to reach your pre-set goals.
Another option for your first session is a book walk.  This process includes encouraging students to make inferences about what they think the book will be about just by looking at the pictures. Look at the cover of the book and make inferences about what the book is going to be about. Talk about who might be the characters, where the story may take place and what time of year it could be happening.
Structuring The Next Two Sessions With Books
The second session, you can read the story to your speech therapy students and stop every once and a while for questions.
The third session you may be using the pictures from the story to work on oral narration, language comprehension or having a discussion about what they liked about the book. You can use the pictures in the book to target inferencing/prediction, perspective taking, adding on what might happen if the story continued, work on grammar structures, answering wh-questions about the story/picture, and using the vocabulary words in sentences.
Camping Speech Therapy Activities
Here are some camping speech therapy activities that you can do as extension activities to work on articulation, fluency, grammar, vocabulary, wh-questions, and social skills.
Pretend Play that you are camping. Act out roasting marshmallows, building a fire, reading a book in a tent (under the table–lol), going fishing, telling a campfire story, making hot dogs, etc. Here is a pretend play camping set by Melissa and Doug (amazon affiliate). Etsy has SOOOOO many cute felt camping play sets for camping.
Use the themed camping vocabulary to play "Who has the marshmallow?" or Simon Says Preposition Camping games to practice basic concepts and answering "who" questions while using the themed vocabulary.
Play a guessing game using camping vocabulary. I like to call the game Mystery Word Game. You or the student can give a clue and students have to make a guess what the item is. Then, another clue is given and so forth! If you want the FREE Mystery Word Game printable, you can access it HERE.
Talk about the expected and unexpected behaviors when you go camping. Work on what you need to pack for camping and what might happen if you didn't bring that item! Role play social situations that might happen while camping, such as when your dad asks you to help set up the tent.
Make a google slide presentation that has real pictures from camping. Work on answering wh-questions, acting out camping actions such as "fishing, roasting, building, eating, sitting, hiking, etc.". Put links to your favorite camping songs, or YouTube videos on how to make s'mores. I have a google slide presentation all set up in my camping push-in language lesson plan guides that have book recommendations, lesson plan cheat sheet, extension activities, YouTube links to movement breaks and read alouds, and a google slide!
Camping Speech Therapy Activities For Older Students
Watch a YouTube video or use how to make a s'more sequencing cards to work on sequencing steps of a process. Make real s'mores if you are up to doing that! You can target so many language skills.
Find reading passages, or YouTube videos about forest animals, How Wildfires Help by Scishow kids or anything related to camping such as How To Set Up A Tent. You can target main idea, vocabulary, grammar, answering wh-questions, sequencing, fluency enhancing techniques and articulation carryover with these topics. These are great "camping" topics for older students.
Camping Speech Therapy Craft Ideas
S'mores are the iconic sweet treat that a lot of families participate in making when they are camping. Why not make a s'mores craft in speech therapy!? You can work on following directions, sequencing the steps for the craft and cover a lot of goals in your mixed groups.
Make a camping lantern and talk about when/why you need a lantern when you are camping. Write or glue speech words, verbs, nouns to the lantern to cover students goals.
Need a video tutorial? Check out the tutorial I did for making Chinese New Year lanterns. It is the same craft!
Crazy Speech World has a fun DIY camping fire craftivity that is easy to prep and can be adapted to a lot of different goals. To see more details about that craft, check out her blog post HERE.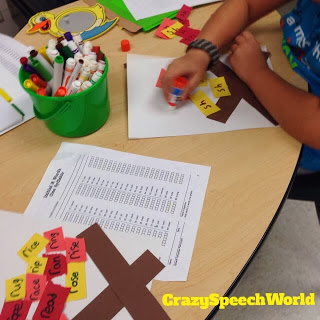 What camping materials, books or lesson plan ideas do you like to use in your speech therapy sessions?
*Storkel, H.L., Voelmle, K., Fierro, V., Flake, K., Fleming, K.K., Romine, R.S. (2016) Interactive Book Reading to Accelerate Word Learning by Kindergarten Children With Specific Language Impairment: Identifying an Adequate Intensity and Variation in Treatment Response. Language, Speech, and Hearing Services in Schools. Advance online publication. doi:10.1044/2016_LSHSS-16-0014.